Features
Everything you need to keep your website in tip-top condition all for one monthly fee.
WP-Ensure Agency Edition
We offer you peace of mind, regular customer contact and recurring monthly revenue.
Our agency edition gives agencies, web designers and freelancers the tools they need to keep their customer sites updated and secure. We also provide white-labelled tools so you can connect with your customer every month and generate recurring income.
Main Benefits
You and your customers never have to worry about backups, updates, or hacked websites ever again.
Generate recurring passive income that grows with your company.
Get coding and technical support for anything you want to do in WordPress.
Touch base with your customers every month through reporting and recommendations.
Improve your customer sites monthly for example SEO improvements, technical/code improvements, visual suggestions, etc. Generate repeat business easily.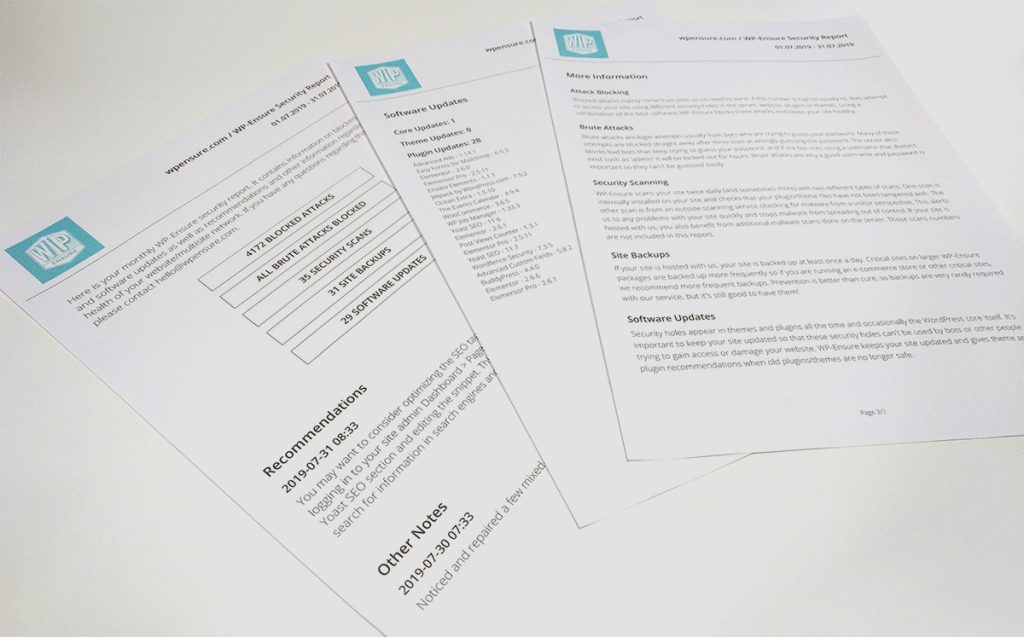 Plan Comparison
Please contact us if you are unsure on which plan best suits you.
1.
Get started with our Startup Security Audit. It's completely free and will give you a basic idea of any major flaws in your site including any data leakage into Google and hazardous plugins.
2.
Once the basic audit is complete you can consider a more in-depth audit while moving the site into our platform.
3.
After that, we take care of all your updates, backups, security, monitoring and support. Peace of mind is a wonderful thing.
References
Here are some of our wonderful customers.
"WP-Ensure has definitely tightened security on my site, and stopped malicious users in their tracks -Highly recommend!"
Laura Carroll – lauracarroll.com